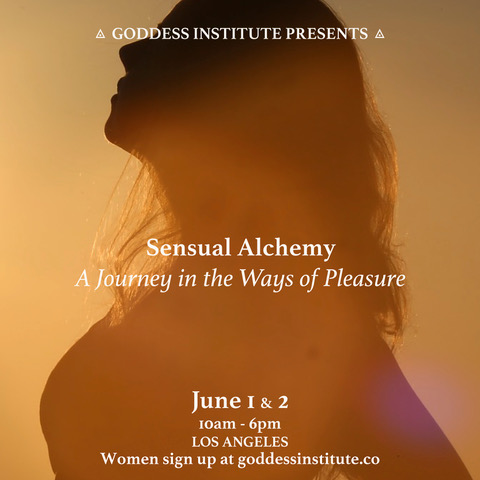 Sensual Alchemy Workshop
Saturday June 1 - Sunday June 2, 10:00 AM - 6:00PM
Los Angeles (exact location disclosed upon registration)
Cost: $400
Join our Goddess Workshop to explore Yorgasmic energetic awareness, self-connection and energetic techniques. Over the two day workshop we will teach women in a safe environment how to bring light to their whole beings so they can transform through orgasmic energy. We will break down barriers to our ultimate potential to create the lifestyle, relationships, and sexuality we truly desire.

Our experiences will include connection meditation, breath flow, light flow, sexual healing, feminine pleasure, and energetic exchange. We will share tools that will allow you to have more empathy, connection and intimacy with others. By practicing non-verbal forms of communication and energetics, you will learn how to improve and nurture your relationships. Through various breathing practices and techniques, we will activate, harmonize and open the energy field to access a higher state of consciousness and flow with more grace. Get ready to express yourself fully!
We are fortunate to have Karina Velasco, certified instructor, founder of yorgasmic and bestselling author, and Shaunda Brown, founder of Goddess Institute, to teach us these methods to radically increase our intimacy, connection, and pleasure.
Women only please.